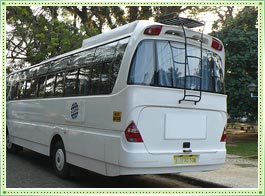 Bhagalpur, the 'Silk City' of India, is one of the most beautiful places of Bihar that deserves frequent visits from tourists. Located amidst the highly fertile Indo-Gangetic Plain, it is an area of astounding scenic beauty. The city is well connected to other parts of the state as well as the country, through efficient rail and road network. Hence, traveling to Bhagalpur is entirely a hassle free experience. In this article, we will provide you handy information on reaching the city.
How To Reach Bhagalpur
By Air
The domestic airport located in Patna, the capital city of Bihar, provides the nearest air connectivity to Bhagalpur district, situated 235 km away from the place. An international airport, it is well connected with all the key cities of India, through almost all the major airlines.
By Rail
Bhagalpur railway station, one of the oldest junctions of India, serves the Hawrah-Kiqel loop-Line. The city is situated on the broad-gauge Loop Line of Eastern Railway, which connects Kiul to Burdwan. Some of the important railway junctions of Bihar, including Sultanganj, Bhagalpur, Sabour and Kahalgaon, are located on this line. A branch line connects Bhagalpur to Mandar Hills. The Barauni-Katihar section of North Eastern Frontier Railway serves as the northern part of Bhagalpur. The railway junctions lying on this line include Narainpur, Bihpur, Naugauchia and Katihar.
By Road
Bhagalpur is connected by an excellent network of national and state highways, along with district and rural roads. National Highway 31 (NH 31) runs through the Navgachia Sub-Division of Bhagalpur district. It links the subdivisions of the district directly with Patna, via Begusarai and Khagaria. It also runs up to Guwahati, via Purnea-Kishanganj.