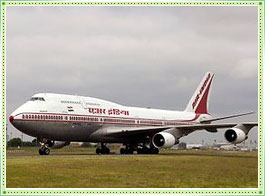 The city of Sitamarhi is located in the northern part of Bihar, under the district of the same name. The administrative headquarters of this district, it is considered one of the pious and sacred sites of Hindu mythology. The name of the city has legendry association with the one of the greatest epics of Hindu mythology - Ramayana. Sita, the wife of Lord Rama, is said to have sprang to life out of an earthern pot, when Raja Janak was ploughing the field on a site, presently in Sitamarhi, to impress upon Lord Indra for rain. It was the emerging of Sita that gave this place its name, of 'Sitamarhi'. The modern city of Sitamarhi is an amalgamation of countryside panorama, religious background and modern edifices, which together create an alluring picture. This article will help you to know about the various options of traveling to the city.
How to Reach Sitamarhi
By Air
The city of the Sitamarhi is well connected by two international airports. The nearest connecting airport is the Jaiprakash Narayan International Airport, situated 139 km away, in Patna. The other airport that can provide you with airlink to Sitamarhi is Gaya International Airport, which is situated 236 km away.
By Rail
Sitamarhi has a railway station of its own that is situated 2 km away from Janaki Temple. It lies on East Central Railways' Raxaul-Darbhanga rail route. The main trains that facilitate railway travel to the city are Sitamahal Express and Gandak Express. In the west, Raxaul Junction Railway Station is the nearest major station from Sitamarhi, while in the northeast, Darbhanga Railway Station falls the closest.
By Road
If you are planning to explore the holy city of Sitamarhi by roadways, then we assure you that the trip will be a pleasure and memorable one. The reason behind this is the fact that the city is very well connected with almost all the major cities in and around Bihar. The broad and motorable National Highways that pass through it assure a pleasant journey.