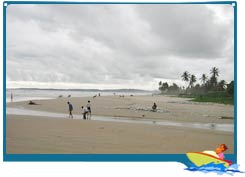 The soft sands and aquamarine waters of the Majorda Beach lure tourists from various parts of India as well as abroad. It lies at a distance of approximately 5 km from the Colva Beach and claims as much popularity as the latter. Here, the green of the swinging palm trees contrasts beautifully with the blue of the gushing water. Majorda Beach is counted amongst the most magnificent beaches of Goa and never fails to receive it share of visitors, locals as well as tourists, in any year.
The beach is also significant from mythological point of view. It is believed that Lord Rama was kidnapped when he was a child and brought to Majorda only. The legend further goes that when the Lord was searching for His wife Sita, who was kidnapped by the evil Ravana, He came to Cabo-de-Rama, located at the southern end of the Majorda Beach. The beautiful amalgamation of nature and mythology further adds to the attraction of the beach. Connectivity-wise also, there is no problem as Majorda Beach is situated in the vicinity of the Dabolim airport.
Even Margao Railway Station and the main bus stand are situated nearby. Majorda Beach is a storehouse of fun. If you are an early riser, make sure to enjoy the beautiful view of the sunrise, from the beach. In the daytime, make sand castles, collect shells, go for swimming or get yourself tanned. The seafood available here is quite varied and the taste is just awesome. The Majorda Beach Resort sprawled across the beach will provide you with the best accommodation too. What are you waiting for? Just go and have fun!