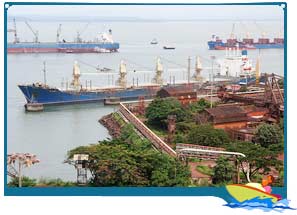 One of India's top-notch natural harbours, the Mormugao port is a premier hub of maritime trade in Goa. With its location at the mouth of the Zuari River, the Mormugao port is a crucial component in the flourishing export industry of the state. The origin of the port dates back to the Portuguese era, it being a spin-off of the Treaty of Lisbon in 1878 between the British and the Portuguese Governments.
Ever since it was accorded the status of a Major Port in 1963, the Mormugao port has contributed immensely to growth of maritime trade in India. It is the leading iron ore exporting port of India with an annual throughput of around 24.50 million tonnes of iron ore traffic. The Mormugao Port accounts for about 32% of India's iron ore export.
The Mormugao harbour is also a major attraction for tourists coming to the Vasco da Gama city. The harbour's claim to fame is the role it played in the 1980 war film, 'The Sea Wolves.' The film, starring Gregory Peck and Roger Moore, is based on a real-life incident where The Calcutta Light Horse, a territorial unit of British expatriates, launches a covert operation to destroy three German ships interned in the Mormugao harbor in Goa.