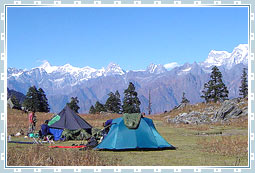 The "Paradise on Earth" is known, not only for its natural beauty but a number of other things also. One of them is adventure tourism. Infact, adventure tourism in Kashmir is one of the major draws for the tourists. An array of options exists in the valley for the adventure loving visitors. Some of the places in the valley where the adventure sports facilities are available are Gulmarg, Sonmarg, Pahalgam, Drass, etc. The mountain ranges as well as the gushing rivers of the valley provide abundant opportunities for adventure tourism in Kashmir. Some of the main adventure sports in Kashmir valley of India are: Fishing, Golf, Mountaineering, Skiing, Trekking, River Rafting, Paragliding in Kashmir, Aero Sports, Backpacking, Canoe Trips, Camping, Kayaking etc.
Fishing in Kashmir
One of the major attractions for tourists in the Kashmir valley is fishing. With the ending of the winter season starts the season for fishing in Kashmir, India. However, for fishing in the valley, one requires to get a permit.
Golfing in Kashmir
Golf tourism is one of the main attractions of the Kashmir valley in summers. The peak season for golf in Kashmir is from April to November. One advantage that the game of golf in Kashmir has over other golf courses that the weather here is quite refreshing & the shade of the bordering Chinar & Pine trees enables the play to go on longer.
Mountaineering in Kashmir
For mountaineering in Kashmir, you need to take permission from the Government of India through the Indian Mountaineering Foundation (IMF). The relief and terrain of Kashmir offers exciting opportunities for mountaineering in the state.
Skiing in Kashmir
Snow skiing in Jammu and Kashmir is like a dream come true to any adventure sports enthusiast. The snow capped mountains in Kashmir offer great opportunities for snow skiing. The best place for skiing in Kashmir is Gulmarg. Infact, Gulmarg is the best ski resort in the Himalayas.
Trekking in Kashmir
Trekking in Kashmir is one of the highlights of tourism in the Kashmir valley. Some of the popular and famous routes for trekking in Kashmir valley of India are: Amarnath Yatra, Gulmarg, Sonamarg etc.
River Rafting in Kashmir
Kashmir is quite famous for a number of picturesque lakes and rivers. These water bodies of Kashmir not only serve as delight to the eyes, but are also a hub of a number of activity-oriented leisure sports. The less adventurous people go for the quiet Shikara boat rides on the Dal Lake and Nagin Lake of Srinagar.
Paragliding in Kashmir
Aero sports are a rage amongst those visiting the Kashmir valley. Amongst the numerous aero sports, paragliding is the most popular in Kashmir. Also, it is one of the latest adventure sports that are picking up fast in the Kashmir valley.