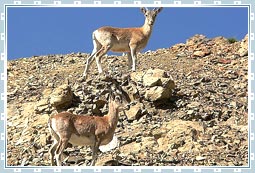 Kashmir wildlife comprises of one of the major attractions of the valley. The rich and varied wild life of the Kashmir valley owes its origin to the Himalayas. Himalayas, the largest chain of mountains in the world, fall under this region to some of an extent. The Himalayan range is home to some of the most exotic species of birds as well as animals. In fact, almost one third of the mountain animals of the world belong to these mountain ranges. The state of Jammu and Kashmir offers a variety of geographical regions, climates and vegetation. This diversity has led to the inhabitation of such an exotic wildlife in the region.
The snow leopard, a survivor from the frigid Pleistocene era, best embodies the mountainous ecosystem of the valley. The beautiful animal has its habitat extending over the entire Himalayan range. However, it is mainly sought in Jammu and Kashmir, especially in the high ranges. Hangul or Kashmir stag, an endangered species of red deer, along with Bharal are the other rare and endangered species found in Kashmir wildlife sanctuaries. A number of exceptional species of antelopes, goats and sheep also inhabit the valley.
The rich avifauna of the Kashmir can be seen in both summers as well as winters. The high-altitude bird species, like Cinnamon Sparrows, Black Bulbuls and Monal Pheasants, move to the lower valleys in winters. However, the time of spring and summers has a charm in itself, when valley awakens to life. The winter migrants return back to the upper ranges, while the birds of the summer return back to the lower areas. There are a couple of National Parks in Kashmir, India that have served as a home to the rich and exotic wildlife of the region.