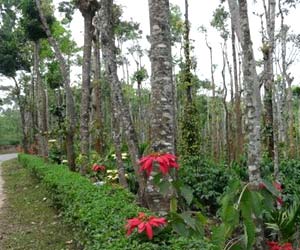 Nestled amidst the Himalayan range overlooking the Almora valley, Binsar is a beautiful, quiet and wild destination to explore in the Uttarakhand state of India. Once the summer capital of the Chand Rajas of Kumaon, the place today, serves as the home of wild animals and birds. Binsar Wildlife Sanctuary was established in 1988, mainly for the conservation and protection of the shrinking broad leaf oak (Quercus) forests of the Central Himalayan region. An epitome of serenity and tranquility, the place extends tourists an unexploited and unruffled beauty.
Binsar wildlife sanctuary is nothing less than a paradise for nature lovers and adventure freaks, what with the numerous birds and animals found in the region. Couple this with the wide variety of flowers and greenery dominating the region. From Binsar, one can enjoy the mesmerizing view of the Himalayan peaks such as Kedarnath Peak, Shivling, Trisul and majestic Nanda Devi. Sprawling over 45 sq kms, Binsar is rich in its flora and fauna. The compelling and enthralling view together with the diverse range of flora and fauna make the place a truly blissful abode for nature.
Fauna
Neora Valley National Park seems to be honored with nature's choicest blessings, what with its plethora of animals and birds adoring this beautiful and picturesque park. The fauna of the place includes leopard (Panthera Pardus), Nemorhaedus goral (goral), Chital (Axis axis), Serow (Capricornis sumatiensis) , Jungle Cat (Felis chaus), Sus scrofa, Black Bear, pine marten, Fox (Vulpes vulpes), Porcupine, Flying Squirrel (Petaurista petaurista) and Barking Deer(Muntiacus muntjak), amongst others. Apart from this, there are about 200 species of birds housing the sanctuary, including tits, forktail, nuthatches, blackbirds, parakeets, laughingthrush, magpies, kalij pheasant (lophura leucomelana),monal, koklas and woodpeckers. In addition to this, Binsar is also home to reptiles and innumerable invertebrates
Flora
The eco-system of Binsar wildlife Sancturay is unique, as the place sprawls to a large area that has a wide range of altitude variation. While the lower levels are dominated by the pine forest, oak and rhododendron are profound at the higher altitude. There is an abundance of alpine flora, Bryophytes, Pteridophytes, hanging mosses and many other species of wild flowers. The flora found in the region includes, Kaphal (Myrica esculenta) , Pinus roxburghii, Engelhardtia spiicata, Macaranga pustulata, Quercus gloca, Quercus incana, Quercus leucotricophora(Banjh), Quercus semicarpifolia, Quercus dilatata, Cedrus deodara, Alnus napalensis, Aesculus indica, Pinus wallichiana , Quercus lanuginosa and Quercus floribunda amongst others.