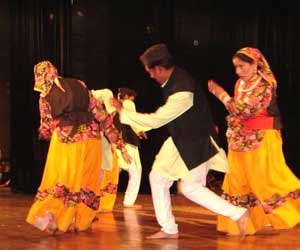 Majestic Himalayan Mountains of Uttarakhand have an array of legends and activities attached to them. The state of Uttaranchal has a rich tradition of performing arts and especially dances. Nearly all of the performing arts are tremendously popular in the Garhwal region of the state. In the Kumaon region, however, people are fond of music, folk dance, and songs accompanied by local musical instruments like Murli, Bina, and Hurka.
The Jurkiya plays the Hurka escorted by the dancer called Hurkiyari, who is usually his wife or daughter. They go to different places recounting folklores and honoring their Gods and Goddesses. Many other Kumauni dances such as Chhapeli, Chholiya and Chancheri come together as the dances of Uttarakhand. Both the Garhwal and Kumaon regions enjoy their exclusive and distinguishing dance forms which are remarkable in their innovation.
Langvir Dance
This is an energetic dance performed more often than not by men. In Langvir, the dancer climbs a bamboo pole and balances himself at his navel on the top of the pole. Music is given by Dhol and he balances, swivels and almost dances on his belly at the pole, performing other acrobatic stunts.
Pandava Dance
Pandava Dance is a type Musical / Broadway kind of show based on the story of Mahabharata accompanied by dance and music. This is performed mainly during Dusshera and Diwali.
Bhotiya Dance
The Bhotiya Dance is performed by the Bhotias tribe and is connected with death ceremonies. It is believed by the tribal people that the soul of the dead person resides in the body of a goat or sheep and by dancing this way the soul can be liberated for their next birth.
Chhapeli
Chhapeli dance is performed by couples with the female carrying a mirror in her left hand and a colored handkerchief in the other. The male plays a Hudukka on his left shoulder accompanied by others playing the Hurka, Manjira and Flute. The dance is a duet that outlines the joys of romance. The woman partner (sometimes also a young boy) dances with a smile and elegant waist movements, either in admiration of her beauty and charm or mocking her ways of expressing love.
Chancheri
This is a group dance of Danpur Patti region of Bageshwar District in Kumaon. Both men and women dance in a semi-circular formation with gradually increasing pace putting across unbridled joy.