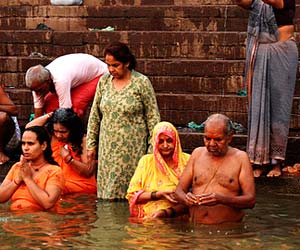 Ganga Dusshera is celebrated in Uttarakhand with lot of enthusiasm. This festival starts on the tenth day of Jaishtha (May-June) according to the Hindu calendar. It begins on the Amavasya night (dark moon night) and continues till Dashami tithi or the tenth phase of the moon. The 'Aarti' is held in Haridwar and thousands of people attend it. The festival of Ganga Dusshera or Dasar sees the River Ganges worshipped for ten days by the people. During this period people douse themselves in the sacred river of the Ganges to wash themselves from all their past and present life sins.
Month & Rituals
Ganga Dusshera is celebrated in the month of May-June (Jaishtha) when people take a dip in the waters of Ganga. Everybody puts up posters called 'Dwarpatras' or 'Dasar' with geometric designs on them. Once these posters were made exclusively by the Brahmins for everybody but now this practice has been discontinued.
Legend of Ganga Dusshera
In ancient India there was a king named Sagara whose 60, 000 sons were looking for the lost horse form the sacrificial Ashwamedha Yagya. Their over-enthusiastic exuberance disturbed the meditating revered Sage Kapila and he reduced them to ashes with his miraculous powers. When his anger subsided, he relented and told them that only the touch of water from Ganges would give them moksha. After a few generations when Bhagiratha, the king of Kosala, heard about his ancestors, he did penance for hundereds of years to please Goddess Ganga.
She agreed but asked him to find a mediator between them since the force of her water's flow would threaten to destroy the planet. Bhagiratha requested Lord Shiva and he agreed to take her on his entangled locks. Ganga then came down to earth from the matted locks of Lord Shiva in seven streams and washed down the ashes of Bhagiratha's ancestors. Bhagiratha's own great effort was praised by all the Gods and his ancestors, and is known as a Bhagiratha's Prayatna (doing something noble inspite of all odds).