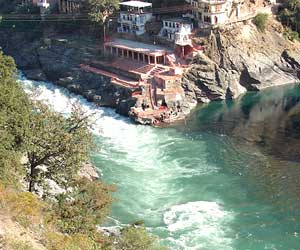 Devprayag which is situated at an altitude of 472 meters above the sea level is famous for many reasons. Devprayag lies at the confluence of rivers Bhagirathi and Alaknanda and thus is the starting point of the holy river Ganga.
Devprayag is also home to much revered Rughunathji Temple which is claimed to be constructed about 10, 000 years ago using massive uncemented stones. However, the temple and other buildings of Devprayag were shattered by an earthquake in 1803 which were subsequently repaired using generous grants by Daulat Rao Scindia.
Devprayag is the seat of pandas of Badrinath Dham. It is administered as a teshsil of Tehri Garhwal District of Uttarakhand. Devprayag has a number of dharamshalas where pilgrims and other tourists can put up. Besides, there are other boarding and lodging facilities like hotels and tourist guest houses that offer a comfortable living.
Places Of Interest In Devprayag