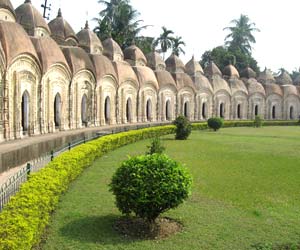 Bardhaman is one of the oldest known districts in West Bengal, having its roots well laid in the Mesolithic Age. Once the headquarters of the Moghuls and later the British, the district boasts of a long and interesting cultural heritage. All the eras gone by have left the district with strikingly stunning remnants, which have today qualify as great tourist attractions and excursions spot of Bardhaman. There are numerous interesting places to visit near Bardhaman, which serve as testimonials of the illustrious and rich history of the region. To get detailed information on the excursion sites in Bardhaman, go through the following lines.
Excursion From Bardhaman
108 Shiva Temple
A huge complex dedicated to Lord Shiva, the place is home to 108 Shivlingas. The temples are divided into two circles, with black and white lingas. Built in 1788, on the Burdwan-Siuri NH, the temple was built on the order of Rani Bishnukumari, Queen of Burdwan. One of the most pious sites, it attracts huge trail of devotees all the year round, especially on Mondays. Large mass of people throng the temple complex on the occasion of Maha Shivratri.
Sarbamangala Mandir
Built by Maharaja Kirtichand, in the year 1702, the temple of Mata Sarbamangala is located on D.N. Sarkar Road. It is one of the oldest religious institutions in this area, its prime attraction being the 1000-year-old idol of Maa Durga. The idol has eighteen hands and is seated on a lion. While large mass of people visit the temple regularly, occasions like 1st Baisakh, Bipadtarini Brata, Saradiya Durgotsov, Kali Puja, Nabanna and Shib Ratri Brata, witness huge flocks of worshippers.
Kankelshwari Kalibari
One of the most striking places near Bardhaman is Kankelshwari Kalibari. Home of Goddess Chamunda, the temple, which is assumed to be 2000 years old, boasts of an exquisitely carved sculpture of the deity. Found from the river-bed of Damodor after the devastative flood in 1923, the idol is made from precious black stone, with 8 hands. The sculpture has human muscles and veins carved in it, making it the most artistic part of the idol. Situated at Brishnu Mandir, in Kanchan Nagar, the temple is a must see destination for those touring Bardhaman district.
Kalna
Located about 50 km from Bardhaman, Kalna is the confluence of the Shakta and Vaishnava forms of worship. The place is home to 'Ambika Kalna' or the summer residence of the Rajas of Bardhaman and also to various temples and shrines. The temples of Kalna are extremely beautiful to look at and exude the artistic glory of the yesteryears. Built of bricks, with intricate terracotta designs, each one of these temples is worth a visit.