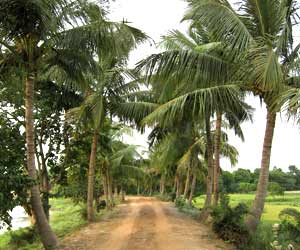 Location:
West Bengal
Altitude:
98 feet
Summer Temperature:
Max: 38°C; Min: 20°C
Winter Temperature:
Max: 24°C; Min: 10°C
Average Rainfall:
150 millimeter
Best Time to Visit:
October to March
Bardhaman district is famous for its historical sites. Believed to have been named after Varddhamana, the 24th Jain Tirthankar, it is considered to be one of the oldest places in West Bengal. In fact, it is the perfect destination for those who love history and archaeology. The most popular historical destinations of the city are Palace of Burdwan Maharaja, Lord Curzon's Gate and the Tomb of Sher Afghan. Talking about the climate of Bardhaman, it can be divided into four basic seasons - summer, winter, rain and autumn. The winter season begins from about the mid of November and ends with February.
The summer in Bardhaman falls between the months of March and May. During the period of June to September, the city experiences rainfall and along with it, high humidity. There is a brief autumn in the district, from October to November. It experiences an eastern Ganges type of temperature trend and tropical savanna climate. It can be better defined as warm temperate rainy climate, with mild winter. The average rainfall in Bardhaman is 150 millimeter. The best time to visit this place is between October and March.