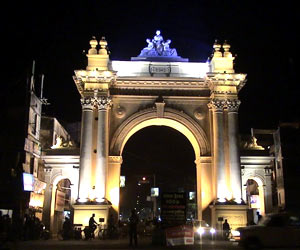 Bardhaman is an important district of West Bengal. Deemed as one of the most advanced districts, owing to its various facilities in the sectors like agriculture, industry, health and education, Bardhaman is known for its rice and oilseed milling and hosiery, cutlery, and tool manufacturing industries. Talking about the tourist attractions of the district, it has lot to offer. Right from monuments that reflect the old world charm to temples and mosques defining the religious bent of the district to museums, gardens and parks that lay emphasis on the entertainment sector of the place, the option are many. Read on to know about the tourist places in Bardhaman.
Places To See In Bardhaman
Curzon Gate
One of the popular tourist sites in Bardhaman, the beauty of the majestic Curzon Gate is spellbinding. Named in honor of Lord Curzon, the gate was constructed by Maharaja Bijoy Chand Mahatab, in the year 1903. Today, the gate has been renamed as Vijay Toran and is a great place to view the architectural magnificence and the glory of the past. The Royal Palace, wherein the kings and the queen resided, is just one km away from this gate.
Tomb Of Sher Afghan
Located at Pir Beharam, in Kanchannagar, the tomb of Sher Afgan is the last of the Afghan jagirdars in Bardhaman. Sher Afgan revolted against Mughal Samrat Jahangir. To get control over the situation, Jahangir had sent Kutubuddin. Both, however, died at the war in 1610 and were buried at the burial ground of Pir Baharam. Thousands of visitors visit the site during festive occasion. the Tomb takes tourist back to the regal and imperial age of India, what with its mesmerizing and fascinating charm and elegance.
Golapbag
Established by King Bijoy Chand Mahatab, in 1884, Golapbag is a perfect place to relax in a soothing ambience. Literally meaning the 'Garden of Rose', the place is a charming site filled with beautiful and lovely roses. The place also has beautiful water tanks. A botanical and zoological garden, it is home to 128 types of trees, including mango, casuarina, eucalyptus, jaam and shimul. Golapbag is a lovely site to behold in the spring season.
Meghnad Saha Planetarium
The second planetarium of the state (first being Birla Planetarium in Kolkata), Meghnad Saha Planetarium has been built within the university grounds. Built in assistance with the Japanese government, the planetarium, though small is size, has been outfitted with latest technology instruments. It has been opened for public use since the year 1994. Regular shows are conducted herein.
Science Center
Situated at Golapbag Road, near Bardhaman University, the science center is one of the popular tourist attractions in Bardhaman. The complex has a museum and a park, which offers insight into the animal kingdom and the environment at large. The center is a good hangout zone and beautifully combines entertainment with knowledge.