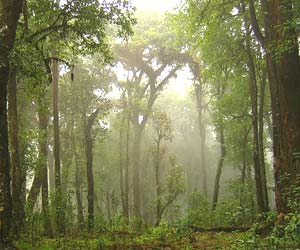 Tucked away in a corner of India, under the umbrella of Darjeeling, Kalimpong is a small district unfolding the glory of nature. Poised at an altitude of 1250 meters, this small town is nothing less than mesmerizing and hypnotic (with its natural beauty). Kalimpong is an ideal retreat for the urbanities, who are looking for a secluded, quite and relaxed holiday, against the backdrop of Kanchenjunga. The tourist attractions in Kalimpong do not just stop with the town alone, but extend to kilometers away from it. The town has numerous exotic and strikingly stunning excursion locations. In the following lines, we have explained each one of these tourist places, in detail.
Excursions From Kalimpong
Teesta Bazaar
For adventure freaks, Kalimpong is just the ideal place to be in. Apart from the lovely flower nurseries and mesmerizing landscape, the hill station also offers its tourists excellent adventure opportunities. About 16 km away from the town is the Teesta Bazaar - a perfect destination for white water rafting enthusiasts. Starting from mid-November, the rafting season continues till mid of February and presents enthusiasts the experience of a lifetime.
Rissisum
Perched at an altitude of 6410 feet, Rissisum is the other name for 'Paradise On Earth'. It is about 20 km from Kalimpong, en route to Lava and offers tourists captivating view of the glorious mountains. A perfect place to open the picnic bags and indulge in recreation, Rissisum extends tourists a mesmerizing and hypnotic view of the valley below.
Lava
Just about an hourís drive from Kalimpong, Lava extends tourists an enthralling landscape, which city-goers can only awe at. Nestled at an altitude of 6500 feet, this small town is extremely rich in flora and fauna. The place provides tourists umpteen opportunities for indulging in natural excursions, bird watching and wildlife. The department of forest has also provided log huts and rest houses for the comfort of tourist and travelers.
Lolay Goan/ Kaffer
Lolay Goan offers tourists an enticing view of the Kanchanjunga Range. Snuggled at an altitude of 5200 feet, 56 km from Kalimpong, the place is nothing less than spellbinding and magnetic. Lolay Goan not just provides tourists an enthralling view of the Kalimpong town, but also a complete view of the mighty Kanchanjunga Range. It also boasts of rich flora and fauna and has dense virgin forest.
Chitray Falls
Enticing, exhilarating and invigorating - Chitray Falls is the perfect place for honeymooners and couples. Offering a panoramic view of the surrounding mountains, the place is purely romantic and blissful. Located 9 km down the Tests Road, with shortcuts through rice fields, it is a haven for those looking forward to spending romantic moments with their loved ones.
Rishyap
It is said that a visit to Kalimpong cannot be complete without visiting Rishyap. Deemed as the ultimate site in the region, Rishyap is situated at an altitude of 8250 feet, about 28 km away from Kalimpong, it is by far the best place in the area, with a touch of medieval old world charm. To reach Rishyap, one has to travel the last few km on his/her own, as jeeps stop four km away from the place. Till date, there is no electricity in the area. With a few small cottage-type accommodations, Rishyap presents tourist a magnificent view of Himalayas, along with a peek at the Nathula Pass, Tin Simana, Gangtok and Tibet Hills.