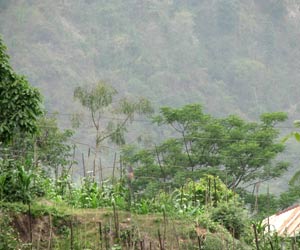 Location:
West Bengal
Altitude:
1250 m
Summer Temperature:
Max: 25°C; Min: 15°C
Winter Temperature:
Max: 15°C; Min: 7°C
Average Rainfall:
2030 mm
Best Time to Visit:
March to Mid-June; Mid September to December
Snuggled at an altitude of 1250 m above sea level, Kalimpong is a beautiful hill station extending travelers utmost peace, serenity and tranquility. It is set in the lap of the mighty Himalayas and is a perfect destination for those seeking a compelling escapade. This beautiful hill station forwards an alpine weather - summer being mild and winters cold. The place experiences southwestern rains during the monsoon season. To get detailed information on the weather anc climate of Kalimpong, read through the following lines.
Summer
Kalimpong is just the perfect place to be in, during summers. This mountainous region serves as the perfect haven for those seeking a getaway from the scorching heat. In Kalimpong, the mercury rises to a maximum of 25°C, the minimum temperature being 15°C. The summer season starts from the month of March and lasts till the mid of June. This period is also one of the peak seasons for Kalimpong travel.
Monsoon
The mild summers in Kalimpong are followed by the foggy monsoon season. Starting from June, the rainy season lasts till September. During this time, Kalimpong experiences heavy southwestern rains, covering the entire landscape in a beautiful cloak of green.
Winters
Kalimpong, being a hilly region, experiences extremely chilly and frosty winters, with mercury dipping to about 7°C. Starting from the mid of September to the mid of February, it faces cool to cold winters. Heavy woolens are the best bet during this time. Kalimpong receives a large number of tourists in the winter season. The season offers tourists best mountain views, all of them being snow-capped.