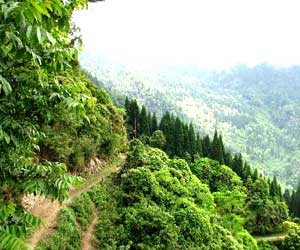 Location:
Kalimpong, Darjeeling
Established in:
1986
Spread over:
88 sq km
Sprawling over 88 square kilometers of unexplored region, Neora Valley National Park is one of the richest biological zones in the entire northeastern belt of India. It was established in the year 1986 and till today, remains the undisturbed natural habitat of unique flora and fauna. The national park enjoys the distinction of being situated over one of the oldest reserve forests in India. Much of the region still remains unexplored, thanks to the inaccessible hilly terrains. Such is the luxurious growth in the area that even sunlight fails to seep in over some of the parts of the park.
Neora Valley National Park is a haven for nature lovers and adventure freaks. The park gives tourists umpteen opportunities to unravel the unexplored virgin nature. Bounded by natural forests, dense bamboo groves, colorful canopy of rhododendron trees, lush green valley, meandering rivers and streams with snowcapped mountains in the backdrop, the interior of Neora Valley National Park is a sight to behold. Reaching an elevation of 10600 ft at Rechela Danda, the highest point of Neora Valley National Park, bordering Sikkim and Bhutan, one can witness the movement of the endemic species of wildlife.
Fauna
Home to Red Panda, Neora Valley National Park has its fauna consisting of endangered species like clouded leopard and musk deer. Other wild species in the park include leopard, five species of civet, black bear, sloth bear, golden cat, wild boar, leopard cat, goral, serow, barking deer, sambar, Himalayan flying squirrel and thar. The National Park is a paradise for bird watchers as well, as it offers spectacular variety of pheasants, cuckoos, minivets, flycatchers, maynas, orioles, owls, and parakeets.
Neora Valley National Park seems to be honored with nature's choicest blessings, what with its plethora of butterflies that provide visitors a colorful plumage. Two of the most popular ones are the Kaiser-I-Hind and Krishna Peacock. They extend to the national park a hypnotic and mesmerizing splendor. Moths, beetles, bees, wasps, bugs and cicadas are the added appeal of the valley. King cobra, common cobra krait, green pit viper, blind snake and lizards are also found in Neora Valley National Park.
Flora
Boasting of a unique eco-system, Neora Valley National Park generally extends tropical and temperate vegetation. However, since the place has a wide range of altitude variation, the Rechela Danda area flaunts even sub-alpine vegetation. The forest comprises of mixed species, like rhododendron, bamboo, oak, ferns and sal. Talking about the eco-system, Neora Valley is renowned for its exotic collection of wild orchids, having splendid colors and invigorating patterns are their unique characteristics. This may come as a surprise to you, but there are a number of orchids, hidden in the deepest area of the valley, still unrecorded.