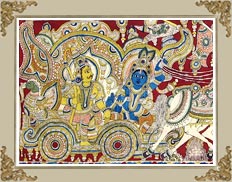 Andhra Pradesh has a rich culture of arts and crafts, which appear all the more appealing in its paintings. This fascinating form of art is an age-old tradition of the state. These paintings employ the excellent workmanship and dexterity of skilled artists. The traditional art of painting exercises natural colors on the canvass. Some of the prominent paintings of Andhra are Cherial, Kalamkari and Nirmal paintings. Another feature about these paintings is that they usually depict mythological themes and characters. Sometimes, the beauty of nature is also portrayed in these paintings. Scroll below for information about the popular paintings of Andhra Pradesh.
Cherial Paintings
Cherial folk painting is a beautiful work of art, expressing the narrative format by the means of rich color scheme. These paintings are based on the themes from the great epics. Employing traditional techniques, Cherial paintings are created on cloth that might run to meters in length. 'Kaki padagollu' is the main community that uses these paintings, as a visual aid to recite tales from 'Ramayana' and 'Mahabharata'. In the present day, artists also make Cherial paintings or scroll paintings in smaller sizes on cloth, cardboard, plywood and paper.
Nirmal Paintings
Nirmal paintings depict a wide range of expressions through subtle use of numerous colors. The expressions in these paintings appear real and sparkling. Nirmal is actually a place in Adilabad district and these paintings were named after the place of their origin. Initially, this work of art was exclusively practiced by a group of artisans known as 'Nagash'. In the 14th century, the 'Mughal' rulers patronized this art since they were mesmerized with its charm. Nirmal paintings are based on various themes, suggesting sharp influence from Indian schools including Kangra, Ajanta and Moghul miniatures.
Kalamkari Paintings
Kalamkari is the unique art of painting fabrics with a 'kalam' (pen). Actually, this 'kalam' is no ordinary pen but a sharp pointed pierced bamboo that regulates flow of color on the fabric. The attractive blend of colors on the fabrics usually portrays characters from the Indian mythology. During the 17th and the 18th centuries, the art of Kalamkari was popularized to such an extent that it went across the shores of India. Kalamkari is still very much prevalent in Kalahasti and Machilipatnam. The colors to shade these paintings are extracted from the vegetable dyes. Besides mythological themes, the paintings also showcase various forms of lotus flower, the cartwheel, parrots and delicate designs of leaves and flowers.