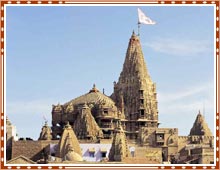 Dwarka city is located in the Jamnagar district of Gujarat. It is one of the most ancient cities in India and houses the famous Dwarkadhish temple, which is one of the biggest Hindu pilgrimage places in India. The city was also called Swarna Dwarka (golden Dwarka) because of its prosperity. It even finds reference in the great Hindu epic of Mahabharata. After Shri Krishna killed his maternal uncle Kansa, his father-in-law was enraged. In order to take revenge of his son-in-law, he attacked Mathura 17 times, along with his friend Kalayavan.
To save the people from the threat of the war, he decided to shift his capital from Mathura to Dwarka, which was basically a piece of a land reclaimed from the sea. The city was designed and constructed by the celestial architect Vishwakarma. It was a planned city and served as the capital city of the Lord till His holy presence on the earth. After his departure to the final abode, the Yaduvansh (Krishna's clan) declined. It is said that the original city built by the Lord submerged in the sea after he departed from the world. Later, one of the grandsons of the Lord constructed the Dwarkadhish Temple.
Dwarkadhish Temple is also known as the Jagad Mandir and it is made from limestone and sand. The spire of the temple is about 170 feet high. The flag on the top of the shrine is the symbol of the majesty of the Lord and is changed three times in a day. Dwarkadhish Temple has five storeys and stands on 60 pillars. It has a unique construction and did not even budge at the time of Tsunami or Earthquake. The temple mainly has two doors, with the entrance door being called the Swarga Dwara and the exit door the Moksha Dwara.
Dwarkadhish Temple is adorned with rich carvings and is an architectural gem. It welcomes the poor and the rich alike. The temple is one of the important Moksh Dhams of India. One can have the splendid view of River Gomati from the temple, as it flows nearby. Apart from Lord Krishna, there are a number of deities present in the Dwarkadhish Temple. The temple holds the same significance for Hindus like Mecca for Muslims. It is thronged by thousands of pilgrims each year, who come here in quest of the eternal peace.