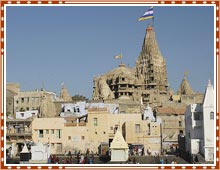 Jamnagar was once a fortified town enclosed within walls and the rulers contributed significantly to the heritage of the place. Today, the city stands dotted by a number of monuments built during the ancient era. The architecture of Jamnagar, being a blend of Rajput and European styles, is awe inspiring. There are also a number of temples in Jamnagar, which are the main attraction for the people coming on sightseeing tours. The royal buildings in the city are eye catchy and are liked by one and all. A tour of the Jamnagar city is definitely a splendid experience.
Dwarkadhish Temple
Dwarka city is located in the Jamnagar district of Gujarat. It is one of the most ancient cities in India and houses the famous Dwarkadhish temple, which is one of the biggest Hindu pilgrimage places in India. The city was also called Swarna Dwarka (golden Dwarka) because of its prosperity.
Bala Hanuman Temple
Bala Hanuman Temple is a pilgrim place venerated by the devotees of Lord Ram. It is a world famous temple, known for the continuous chanting of Jai Ram, Shri Ram. The chanting is going on since 1964 and has found a place for it in the Guinness Book of World Records. People chant the name of the Lord in shifts, 24 hours a day.
Shiva Temples
There are a number of Shiv Temples in Jamnagar. The ones worth watching are Badri Kedarnath and Nilkanth Mahadev Temple, situated near the Town Hal,l and the Kashi Vishwanath Temple, situated on the K.V. Road. The Siddhnath Mahadev Temple on the outskirts of the city also holds great prestige amongst devotees.
Jain Temples
Jain temples are the joy of the old city of Jamnagar. These wood and stone magnificent buildings are adorned with pastel colored shutters and wooden balconies. The main Jain temples of the city have been mentioned below.