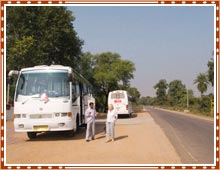 Jamnagar is one of the major cities in Gujarat. It is known for its beautiful buildings and their exquisite architecture. As the city is an important trade center, it is well connected to the rest of the country via various means of transport. A number of corporate big-wigs have established their industries here. Apart from this, Jamnagar also has a lot to offer to the tourists. In order to explore the city you should know how to reach there. Traveling to Jamnagar is convenient, owing to its good connectivity via road, train and plane.
By Air
Jamnagar is accessible from all the major parts of India and reaching here by air is no problem. Its airport is situated at distance of 10 km from the city. There are daily flights to Mumbai from the Jamnagar airport. Indian airlines, with other private airlines, link the city with other the important cities of the country.
Domestic Airlines
The following domestic airlines can be taken for getting to Jamnagar.