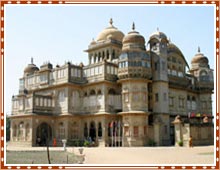 Mandvi is situated at a distance of 446 km from Ahmedabad and virtually lies on the brink of the Arabian Sea. The city was once the summer retreat of Kutch Maharaos. It is believed that it was founded by the first Jadeja ruler of Kutch, Rao Khengarji, in the late sixteenth century. Mandvi tourism is quite delightful throughout the year, as the city experiences a nice and pleasant climate throughout the year.
One of the reasons for this is the location of Mandvi i.e. on the banks of the River Rukmavati, near Gulf of Kutch in India. Initially, Mandvi was a fortified town and was enclosed within the fort walls. With time, the walls have disappeared, leaving behind a bastion on the southwest which acts as a lighthouse. During its glorious times, it served as an important trade center.
Mandvi earned a great deal of revenue from export. In terms of wealth, the city even surpassed Bhuj, the capital of Kutch. It was a major port for trading with Malwa, Marwar and Sindh. Mandvi is also a 400 year old shipbuilding center. There were a number of ships built here, which sailed up to England and return back. One can still see small boats being made here, as per the traditional techniques.
Tourist Attractions
Vijay Vilas Palace
Vijay Vilas Palace is one of the main attractions of Mandvi. It is a splendid monument set amidst sprawling gardens and dotted by a number of marble fountains. The palace was constructed by Rao Pragmalji and designed by a Jaipur architect. Vijay Vilas Palace was built in the year 1920 AD. It contains all the elements of Rajput style of architecture and is a must visit destination.
Mandvi Beach
Another hot spot here is the Private beach of the Vijay Vilas Palace. It is maintained by the tourism department. Consequently, it has been the location for many film shootings. The pristine beauty of the beach is a huge crowd puller.
Other Places of Interest
The girls' high school built by Rao Lakhpat (1741-60 AD) and a light house are also worth seeing. The school was a former palace and is a replica of the Aina Mahal of Bhuj. It is adorned with intricate stone carvings. There is also a wind farm on a picturesque beach nearby. The Swami Narayan Temple is also a popular tourist spot with bright painted exterior and elaborate plaster decorations. Other interesting religious buildings at Mandvi are the Vaishnav Temple at Sundarvan, Rameshwar Temple, Laxmi-Narayan Temple, Swami Narayan Temple, Jami Mosque.
How to Reach Mandvi
By Air:
Nearest airport is Bhuj, situated at a distance of 50 km.
By Rail:
Nearest railway station is Gandhidham, situated at a distance of 95 km.
By Road:
State buses available from Bhuj, Ahmedabad and Rajkot.