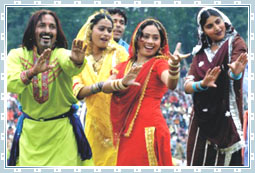 Fairs and festivals of Jammu and Kashmir are a reflection of the diverse cultural and social heritage of the valley. Like all other parts of India, Kashmir too abounds with numerous fairs and festivals throughout the year. Fairs and festivals of Kashmir are celebrated with much fanfare and joy, regardless of the religion. Lohri is celebrated with as much enthusiasm as Id or Diwali. Given below is a list of the major fairs and festivals of Kashmir:
Lohri
The festival of Lohri is also celebrated as Makar Sakranti. It is celebrated on 13th January to welcome the onset of spring.
Baisakhi
Celebrated on 13th April, Baisakhi is the harvest festival of north India. It is also the day when Guru Gobind Singh founded the Khalsa sect.
Jhiri Mela
This fair is held to commemorate a poor farmer. It is believed that he committed suicide as protest against his tyrant landlord.
Purmandal Mela
This three-day fair is organized to commemorate the marriage of Lord Shiva and Goddess Parvati on Shivratri.
Bahu Mela
Bahu Mela is organized twice a year at the Kali temple in Bahu Fort of Jammu.
Mansar Food and Craft
Mela Mansar Food and Craft Mela is a three-day fair organized during Baisakhi season on the banks of the Mansar Lake.
Chaitre Chaudash
Chaitre Chaudash is held in the month of March-April at the village Uttar Behni.
Navratri
At the time of Navratri, a special mela (fair) is held at the Kheer Bhawani temple in the Tullamula village.
Eid-ul-Zoha
Eid-ul-Zoha is celebrated in the month of in July. It commemorates Prophet Abraham, who agreed to sacrifice his son to God.
Eid-ul-Fitr
Eid-ul-Fitr is celebrated in the month of October/November. It marks the end of the fasting month of Ramadan. On this occasion, sweets are prepared and Muslims buy new clothes and pamper themselves with delicious feasts.