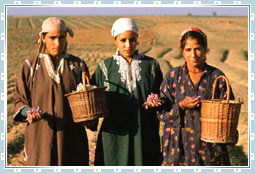 The people of Kashmir are believed to be the descendants of the immigrants from India proper. As Buddhism spread here, people from far and wide came for research and study. People of Kashmir experience a culture that is an amalgamation of a number of other cultures they came in contact with. Roman, Greek and Persian civilizations have influenced the culture of Kashmiri people to quite an extent. Kashmiri population is a blend of people belonging to distinct races with different looks, dresses, food habits, customs, traditions, rituals, etc. Have a look at the people and main ethnic groups in Jammu and Kashmir.
Kashmiri Pandits
Kashmiri Pandits are amongst the original inhabitants of the valley. They used to dominate the region of Kashmir, at one point of time. However, acute terrorism in the Kashmir valley forced them to migrate to other places in the country. Today, their population has been reduced to minority in Kashmir.
Kashmiri Muslims
Approximately ninety percent of the population of Kashmir consists of Kashmiri Muslims. Muslims belonging to both the Shia sect and the Sunni sect reside in the valley. They are considered to be quite skillful in arts and crafts. Their other occupations include agriculture, sheep rearing, cattle rearing and other cottage industries.
Gujjars
Gujjars are considered to be the Rajasthani Rajputs, who converted to Muslim faith. They belong to the hilly area of Kashmir and are generally herdsmen by occupation. Tall and well built, Gujjars have notably Jewish features.
Kashmiri women love to dress up with a lot of ornaments. Almost every body part, be it the head, ears, neck, arms or ankles, is adorned with jewelry. A typical ornament of a married Kashmiri Pandit woman is Dejharoo. It is a pair of gold pendants, which hangs on a silk thread or gold chain and passes through holes in the ears pieced at the top end of the lobes. The Muslim women are quite fond of wearing a bunch of earrings. The typical dress of a Kashmiris man is Pheran, a long loose gown hanging down below the knees. The men wear a skullcap, a close-fitting shalwar (Muslims) or churidar pyjama (Pandits) and lace less shoes called gurgabi. In case of Kashmiri women, the Pheran is either knee-length (Muslim) or touching the feet (Hindu). The Pheran is tied at the waist with folded material called lhungi.