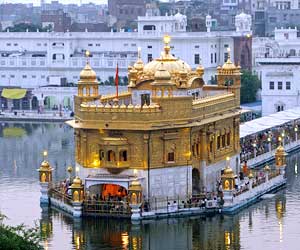 Golden Temple, or Sri Harmandir Sahib, is one of the most visited pilgrimages across the globe. It is one of the oldest Sikh gurdwaras, which is revered by people of every caste and creed. Thousands of pilgrims flock to Amritsar, to pay obeisance at the temple. Though it is visited throughout the year, the most preferable time is between the month of November and March. This time of year marks the winter season in the city. During this season, the atmosphere is pleasant and cozy. So, it makes the best time to visit Sri Harmandir Sahib.
One can visit Golden Temple during the festival time as well, when it is decorated extensively, followed by grand celebration. People gather from different parts of the world to commemorate the festivals. One of the most important festivals celebrated herein, with all pomp and show, is Baisakhi. It is celebrated to commemorate the ripening of winter (rabi) harvest and in turn, to honor the hard work of farmers. This is celebrated on 13th April every year. Though April falls in the summer season, the festivity atmosphere wipes away the difficulties of heat.
Other important days are the martyrdom day of Guru Tegh Bahadur and birthday of Guru Nanak. The birthday of Guru Nanak falls on Kartik Purnamashi, that is, full moon day of the month of Kartik. The date for Gurupurab is decided as per the lunar Indian calendar and it varies every year. Lohri is celebrated on January 13th every year, as the winter harvest festival. Golden Temple is illuminated with number of diyas (candles) around Diwali as wwell, which falls in the month of October or November. It is heavily crowded during the festivals and offers an awesome sight.