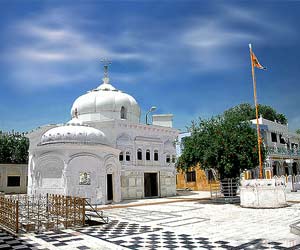 The district of Gurdaspur has a number of tourist spots, which offer an enchanting sight to the visitors. Some of important ones have been listed below:
Places To See In Gurdaspur

Barath Sahib
The Gurdwara of Barath Sahib is associated with Baba Sri Chand, the elder son of Guru Nanak Dev Ji. Baba Sri-Chand is the founder of the Udassi sect and was born on Bahdon 9, Samvat 1551 i.e. 1494 AD in Sultanpur Lodhi.
Achal Sahib
Achal Sahib is located 8 km from Batala, on Batala-Jalandhar road. It is associated with Guru Nanak Dev Ji and Lord Kartik, the son of Lord Shiva and Goddess Parvati.
Achaleshwar Temple
As per the local sources written on the board of the temple, Achaleshwar Temple belongs to Satyug period and is related to Lord Kartik, the son of Lord Shiva and Goddess Parvati.
Gurudwara Sri Kandh Sahib
This Gurdwara marks the holy place of marriage of Guru Nanak Dev Ji. He came here as a bridegroom from Sultanpur Lodhi, in 1487 A.D.
Dhinapur Shrine
It is located 19 km to the north of Batala. The town is associated with Baba Lal Ji, who is said to have lived during the time of Mughal Emperor, Shah Jahan. A popular mythological belief associated with the place is that one who takes bath in the baoli on a moonlit night of Saturday will be blessed with a son.
Sri Namdev Durbar (Ghoman)
Ghoman is about 10 km from Sri Hargobindpur and is associated with Baba Namdev. He is the founder of the town and meditated here for 17 long years.
Mukeshwar Temple
This temple is situated on the bank of river Ravi. It is about eight kilometers to the northeast of Shahpur Kandi. This temple is one of the earliest relics of antiquity, which are said to data back to the times of the Pandavas. It is believed that Arjun and Draupadi had visited the place. Near the temple, you can see Arjuna's Chula as well.
Fish Park
Fish Park offers the scope for hangouts and relaxation. It is located in Civil Lines, a cluster of homes in the city. Some years back, it used to be the center for purchasing food items for the fish. Today, though there is no fish in the park, it is called so owing to the statue of the fish in the center. It is very well manicured and well maintained.
Kabootri Darwaza
It is a part of Old Gurdaspur bazaar. It offers exciting choices of mouth-watering delicacies, which also includes sweets.
Others
Other than the tourist places listed above, there are many other attractions in Gurdaspur, like the Minarah at Qadian, Jhulna Mahal, the Spinning Wall of the 18th century, Mosque Aqsa, Shrine of Dhinapur Sri Baba Lala Dyal Ji, Gurdwara Chola Sahib Dera Baba Nanak, Shrine of Brave Haqiqat Rai at Batala and Baradari which is the summer resort of Maharja Ranjit Singh Ji.