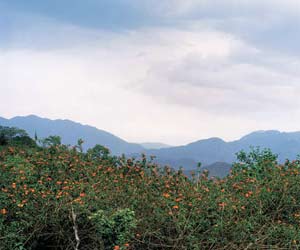 The weather of Gurdaspur is basically dry, except for the brief south-west monsoon season. The city experiences mainly four seasons in a year that is, summer, monsoon, post-monsoon and winter season. Let us explore some more information on the weather and climate of Gurdaspur.
Summer
The onset of summer season begins from the month of April. Temperature rises rapidly and reaches the extreme in the month of June. The maximum temperature reached during summer is 44
o
C . Scorching dust laden winds blow on many days in the summer season, particularly in the month of May and June. Some days might see thundershowers in the afternoon, which provide a relief from the scorching heat.
Monsoon
With the onset of monsoon in the month of July, the temperature falls down considerably. The average rainfall in the district annually is 1113 mm. It increases from the south-west towards the northeast and is greater in the sub-mountain parts of the district. The monsoon season receives about 80% of the annual rainfall, while the remaining is received as thunderstorms in the summer and rainfall in the winter. The heaviest rainfall is received during the month of July. Monsoon lasts till the end of August. The relative humidity of air increases considerably during the monsoon season. The sky is heavily clouded and there are regular downpours.
Post Monsoon
Towards the beginning of September, the intensity of rainfall decreases. There is sudden drop in the temperature and the atmosphere becomes cold. This is the post-monsoon period, which lasts through the month of September and October. Atmosphere is pleasant and soothing during this season.
Winter
By the beginning of November, winter sets in Gurdaspur and there is a rapid decrease in the temperature. It lasts till the end of March. January is the coldest month. The minimum temperature of the place during the season is 6
o
C . Blowing of cold waves is a usual occurrence here, which leads to the further lowering of temperature. Winter rains are common occurrence in the place, which lowers the temperature considerably.