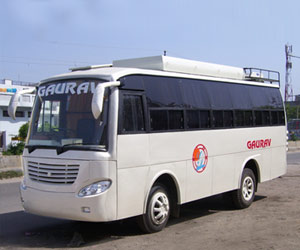 Pathankot has a well-developed infrastructure and is well connected by air, road and rail. With this article, explore complete information on how to reach Pathankot.
Traveling to Pathankot

By Air
Pathankot has a domestic airport of its own, which was inaugurated by Mr. Praful Kumar on 21st November 2006. It has flights operating to and from Delhi and Dalhousie. Air Deccan and Spice Jet Airways are the main flights operating from this airport, providing connectivity with the rest of the country.
By Rail
Pathankot city has two well-developed railway stations - Pathankot station and Chakki Bank station. Pathankot has direct train links with Delhi, Jammu, Amritsar and other Indian cities. The important trains of the area are Jammu Tawi-Mumbai Express (Swaraj Express), Jammu Tawi-Guwahati (Lohit Express), Jammu Tawi-Chennai (Madras Mail), Jammu Tawi-Pune (Jhelum Express), Jammu Tawi-Delhi (Shalimar Express) and Jammu-Ajmer (Pooja Express). Super fast trains like the Jammu Tawi-Mumbai Express do not enter the city of Pathankot, instead stop at outer railway station, Chakki Bank. The city also has a narrow line station just next to main city station, from where trains to Kangra valley can be caught.
By Road
An excellent network of road runs through the city. There is a vast network of bus services as well, which run to and from Delhi, Haryana, Himachal, Jammu and Kashmir, Dalhousie and Dharamshala. The city is connected by buses to different places within the state, like Chandigarh, Amritsar and others. Both government and private buses run from Pathankot, making it a conveniently accessible place. Taxis and auto-rickshaws are also widely available, facilitating easy movement within Pathankot and for shorter trips outside the place.