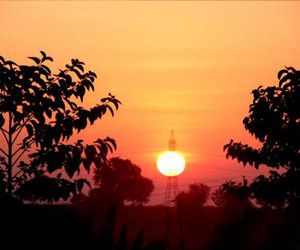 Pathankot is a city and municipal committee in the Gurdaspur district of Punjab. It used to be a princely state ruled by the Rajputs before 1849 AD. Presently, the city serves as a conjunction for the northern states of Punjab, Himachal Pradesh and Jammu & Kashmir. It connects J&K with the rest of India, on the national highway. In terms of population, Pathankot is the fifth largest city in Punjab. The Chakki river flows close by the city, which is often a halting point for the tourists heading to the mountains of J&K, Dalhousie, Chamba, and Kangra. Read on to know about the weather and climate of the charming city of Pathankot.
Pathankot Weather & Climate

Summer
The summer season in Pathankot begins from April and stretches till July. The temperature may touch 44 degrees C and can even cross the mark when the heat conditions are too extreme. June is the hottest month in summers and dust storms may also be experienced in the months of May and June.
Winters
Winters in Pathankot begin from November and continue till March. January is the coldest month, though the weather remains pleasant in the rest of the winter months. Winters rains are also experienced during January and February.
Monsoons
The southwest monsoon arrives in Pathankot in the first week of July and the downpour continues till the end of August. During this period, Pathankot receives 70% of its total rainfall. The month of July sees the maximum rainfall.