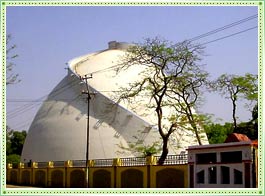 The history of Patna goes back to thousands years back and it is considered as one of the oldest surviving cities. Let's have a look at various tourist attractions in Patna, the capital city of Bihar.
Takht Shri Harmandir Saheb
Takht Shri Harmandir Saheb is one of the most revered Gurdwaras in India. The great Sikh ruler Maharaja Ranjit Singh built this Gurudwara. The Gurudwara was built in commemoration of Guru Govind Singh. Guru Govind Singh had sacrificed his life serving humanity. The Gurudwara is also called 'Takht Shri Patna Sahib.'
Hanuman Mandir
Hanuman Temple near Patna Junction is one of the major tourist attractions at Patna. Hanuman, a mythological Hindu god, is believed to have many supernatural powers and worshiping him is considered the most auspicious. On every Tuesday a large number of devotees come to worship Lord Hanuman.
Kumhrar
Kumhrar was an important place during ancient times. The excavation of the place has yielded numerous artifacts, which indicate to the fact that the place was the seat of Chandrgupta Maurya, the ruler of Magadh. During excavation, archeologists found the ruins of a huge pillared assembly hall, a Buddhist monastery, parts of Anand Bihar, clay figures and wooden beams. All these findings are indicative of a well flourishing city in early centuries.
Patna Museum
Patna Museum is a major attraction for tourists. Patna museum has a large collection of items found in excavation at Patna and near by places. The museum houses a wide collection of stone and bronze sculptures and terracotta figures of Hindu and Buddhist artists. These artifacts belong to the ancient and medieval phase of Indian history. The famous terracotta figurine, Didarganj Yakshi, is housed in the Patna museum.
Golghar
Located on the bank of Ganges River, this beehive shaped granary was built for storing grains. The purpose behind the erection of the building was to use it during the times of famine. On the base, it is 125 meters wide and walls of the erection are 3.6 meters thick. A wonderful and picturesque look of Patna is available from the top of the building.
Qila House
The building is known as Jalan House, for it was the brainchild of Diwan Bahadur Radhakrishn Jalan. Radhakrishn Jalan was an avid collector of jade, Chinese paintings and various far-eastern works of art. Later on he wished for a collection house to show them up and that culminated onto Qila House.
Patna Planetarium
Patna Planetarium is the largest Planetarium in Asia. The major attraction of the planetarium is regular film shows relating to diverse subjects including astronomy and other related themes. Exhibitions are common feature of the planetarium and a major attraction among kids.