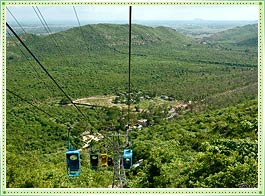 Patna itself is a popular tourist destination and has many wonderful places to see. There are many other tourist destinations surround Patna, which include Maner, Rajgir, Nalanda, Bodh Gaya and Gaya. These places are closely associated with the religious, cultural and political history of India and full of historical structures.
Maner
Located just 29 kilometers away from Patna, Maner is an Islamic pilgrim destination. Maner houses a shrine of 13th century Sufi Saint Maneri. His cenotaph at Bari Dargah is a popular tourist destination among his followers. There is one tomb of his disciple Shah Daulat which also attracts a number of tourists.
Bodh Gaya
Located 125 kilometers away, Bodh Gaya is a major tourist attraction near Patna. Bodh Gaya was the place where Gautam Buddha attained enlightenment under the peepal tree. Known as the Bodhi Tree, it is one of the most sacred sites for Buddhists across the world. The Bodhi tree is enshrined in a temple called Bodhi Temple. A huge statue of Lord Buddha inside the temple is another major tourist attraction at Bodh Gaya. Bodh Gaya is a part of Buddhist Circuit that connects all the places associated with Buddha and Buddhism.
Nalanda
Located 90 kilometers away from Patna, Nalanda houses the ruins of the famous Nalanda University. Nalanda was once the seat of higher learning but was devastated by a Turkish invader in the twelfth century. Wide spread campus of the university shows the grandeur and versatility of Nalanda University. According to Chinese traveler, Hiuen Tsang, Naland University housed more than ten thousand students and one thousand faculty members.
Rajgir
Rajgir holds great importance for Busshists and Jains. Situated amongst lush green hills and at a distance of 102 km from Patna, Rajgir was the ancient capital of the Magadha Empire before Lord Buddha. Major tourist attractions at Rajgir are Gridhakuta, Pipphali House, Venuvana, Tapodarama and Saptaparni cave.
Vaishali
Vaishali is said to be the first republic in human history. Vaishali had the concept of republican government much before the Greeks. Vaishali is located at a distance of 55 kilometers from the capital city of Patna. Lord Buddha stayed here for quite some time during his search of truth. Vaishali is also associated with Lord Mahavira, the 24th Tirthankara.