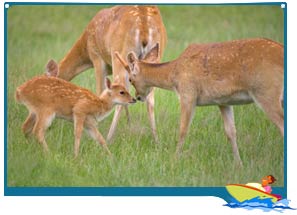 Located on the Goa - Karnataka border, the Cotigao Wildlife Sanctuary is the second biggest wildlife reserve in Goa. The Cotigao Sanctuary, a designated reserve since 1969, sprawls over an area of 86 sq. km. The Talpona river meanders through the thick vegetation and serves as the perennial water source for the sanctuary.
The Forest Department has set up a Nature Interpretation Center in the sanctuary to impart knowledge to tourists regarding wildlife. Avid nature buffs can climb up a 25-meter high treetop watchtower for a view of the wildlife in their natural habitat.
Flora at Cotigao Wildlife Sanctuary
The Cotigao Wildlife Sanctuary stands out for its wealth of verdant forests and luxuriant green canopy. The vegetation in the sanctuary is mostly moist-deciduous type, with sporadic patches of semi-evergreen and evergreen forests.
Fauna at Cotigao Wildlife Sanctuary
If you are in search of a sanctuary teeming with a plethora of wildlife species, Cotigao will disappoint you. The sparse animal population consists of Gazelles, Sloth Bears, Porcupines, Panthers, Hyenas, Wild Boars and Indian Bisons. The common winged visitors include rufous woodpeckers, white-eyed eagles and the Malabar crested eagle.
How to Reach Cotigao Wildlife Sanctuary
Air
The nearest airport is Dabolim (80km).
Rail
The nearest railhead is at Canacona (12 km).
Road
Poinguinim, 2 km away, is the nearest town. Poinguinim is 10 km away from Chaudi, the main town of Cancacona on NH17.