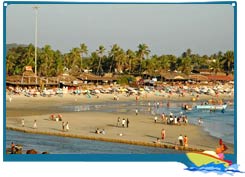 Baga Beach, situated at a distance of approximately 10 km from Mapusa, is one of the most magnificent beaches of Goa. It is considered to be just an extension of the famous Calangute Beach, but is much less crowded than the latter. Infact, it has a number of secluded and peaceful nooks and corners, where one can just laze around and relax. Baga Beach falls on the west coast of Goa, along the mighty Arabian Sea.
The rock-strewn and wooded headland of the beach seems to be dipped in an air of tranquility. Though a part of Calangute Beach, Baga boasts of much more variety in its natural beauty. It is the pure and untouched beauty of the beach that draws a large number of tourists, from India as well as abroad. There is no accommodation problem also, as a gorgeous retreat house is situated atop a nearby hill. Baga beach is especially popular amongst the foreign tourists.
They love to indulge in the numerous water sports offered by the beach, along with the fishing trips organized here. The restaurants that have been set up here, said to be amongst the best in Goa, serve as an added attraction. You will find every type of eating joint here, right from the usual shacks found at every beach to bustling pizza corners to the terrace cafes. Even the cuisine offered by them is quite varied. Baga Beach is definitely a place worth visiting in Goa.