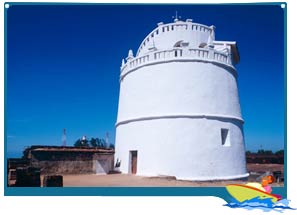 An awe-inspiring edifice, the Aguada fort stands tall among the Portuguese-era forts scattered across Goa. Strategically located at the estuary of the river Mandovi, the Aguada fort is the largest among the lot. Aguada in Portuguese translates to 'water' and the fort has been called so for the spring within the ramparts that provided water supply to the ships that called here arriving after the long sea voyage from Lisbon.
The Portuguese erected this massive bastion in 1609-12 to ward off attacks from the marauding armies of the Dutch and the Marathas. Apart from the strategic location, an assembly of two hundred cannons and the thick fortifications made the Aguada fort a veritable bulwark against enemy attacks. The fort made an enviable record of being the only fort that was not conquered by any invaders during the 450 year long rule of the Portuguese empire.
Located within the precincts of the Aguada fort is a four-storey lighthouse, erected in 1864 and arguably the oldest of its kind in Asia. The Aguada fort is in a good state of preservation and one can still witness remnants of the original structures. Nowadays the fort functions as a prison and it happens to be the largest prison in Goa.
How to Reach Fort Aguada Goa
Being a prominent tourist spot, most of the tourist operators offer conducted tours to Aguada fort. You can also hire taxis on your own.