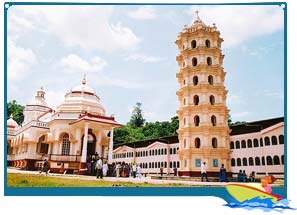 Panaji excursions tour will take you to some of Goa's prime tourism destinations.
Old Goa
Located 9 km to east of Panaji, Old Goa was the erstwhile capital of the Portuguese dominions in Goa (India). As the epicenter of Portuguese territory, Old Goa witnessed the profusion of magnificent churches and majestic buildings befitting the stature of the city. Old Goa has been declared a World heritage Site by UNESCO.
Mangueshi Temple
Located about 21 km from Panaji, the Mangueshi temple stands tall amidst the scores of Hindu temple that dot the Goan landscape. Lord Manguesh is an incarnation of Lord Shiva and the Shivalinga inside the fluorite designed sanctum is flanked by dwarpalas (guards). During the annual Jatra, the temple is illuminated brightly.
Calangute Beach
Calangute is the numero uno beach in Goa. Stretching over an expanse of seven kilometers, Calangute beach is known by the sobriquet the 'Queen of Beaches' for its pre-eminence among the scenic beaches that dot the Goan landscape. Due to its extreme popularity, Calangute beach beckons tourists and backpackers from all over the world.
Reis Magos Fort
Built in 1551, the Reis Magos fort is another manifestation of the Portuguese rulers' resolve to defend their territory against invaders from the neigbouring states of Goa. Originally built by Sultan Adil Shah, the Reis Magos fort was annexed by the Portuguese in 1760. The Reis Magos church, present at the base of the fort, adds to the charm of the village.
Candolim Beach
Candolim Beach is situated in the northern side of Goa. It is the perfect place for those who have come on a vacation to forget the tensions of their daily life and intend to spend their time relaxing and rejuvenating. Though it doesn't boast of too many facilities, the beach can surely be your answer to the serene surroundings that you are looking for.