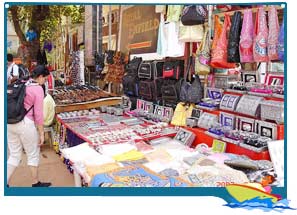 Goa is a shopper's haven and the capital city of Panaji is one of the most exciting shopping destinations in the state. The shopping experience in Panaji is a blend of the exotic and the modern. While the local markets are a treasure trove of indigenous handicrafts, the upscale shopping malls teem with designer boutiques and international brands.
Scour the markets of Panaji for a wealth of artifacts including brassware, terracotta, shell work, Curios and old coins, carved furniture and a lot others. The Miramar beach, located 3 km away from the city, is another shopping hub thronged by locals and tourists alike. Local fisherman turned vendors would fall over each other too the potential customers. The ideal place to shop for trendy beachwear and hammocks.
Apart from the local markets, the government emporia in Panaji also do brisk business. The Goa Handicrafts Industries Development Corporation Emporium at Tourist Hotel in Panaji draws a number of shoppers with its offering of handicrafts.