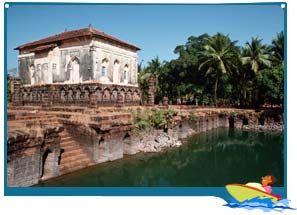 Ponda tours will be a journey through a landscape dotted with Goa's most prominent pilgrimages.
Mangueshi Temple
Mangueshi temple is the most famous among the temples in Goa. Located about 21 km from Panaji, the deity of the temple was shifted from Cortalim to the Priol village of Ponda in 1560 to escape the destruction by the Portuguese. Lord Manguesh, the presiding deity of the temple, is an incarnation of Lord Shiva.
Sri Ramnath Temple
Located in the Bandode village of Ponda, Sri Ramnath temple is believed to have been set up by Lord Rama after his slaying of King Ravana. This temple too was relocated from the original site in Loutolim to the Bandode village for fear of persecution by the Portuguese. The Ramnath temple is dedicated to Lord Shiva.
Bondla Wildlife Sanctuary
The smallest among the wildlife reserves in Goa, the Bondla Wildlife Sanctuary is more popular as a wildlife resort than a sanctuary. The sanctuary houses a botanical garden, a rose garden, deer safari park and a zoo, initially established as a refuge for injured or orphaned animals.
Safa Masjid
Also known as the Shahouri masjid, the Safa masjid is the biggest of the 27 mosques built by Sultan Adil Shah in and around Ponda. The mosque was located at the center of a sprawling complex of gardens and fountains remnants of which can be witnessed today. The structure of the masjid is replete with typical elements of Islamic architecture of that period.