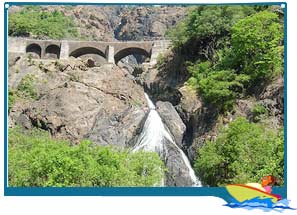 Set amidst a breathtaking landscape resplendent with the verdant greenery of the Western Ghats mountains, the Dudhsagar waterfall is a prime tourism destination in Goa. Literally meaning 'sea of milk' in native Konkani, the Dudhsagar falls appears to be milky streaks cascading down the mountainside. At a height of 310m, Dudhsagar is the fifth highest waterfall in India and ranks 227th in the world.
The Dudhsagar waterfalls are created as the headwaters of the Mandovi River branches into three cascades to tumble down a near-vertical cliff. The falls has acquired the sobriquet "sea of milk" courtesy the clouds of milky foam which rises up at the bottom of the falls. Some credit the name to a local legend about a princess who covered her modesty by pouring a stream of milk in front of her.
The picturesque beauty all around has made the Dudhsagar falls a popular picnic site. The waterfall has created a couple of pools nearby that lure the tourists for a bath and frolicking in the waters. The Dudhsagar Waterfall is also known as a trekking destination and one can reach the falls by traversing serpentine mountain trails.
How to Reach Dudhsagar Waterfalls
Being the most well-known waterfall in Goa, Dudhsagar falls is a prominent stop on tours conducted by the Goa Tourism Development Corporation and private operators. The falls can also be reached by a train journey from Vasco or Margao. At Collem, in the Bhagwan Mahaveer Sanctuary near Mollem, there is a railway station where the train stops to pick up passengers for the journey to the waterfalls.