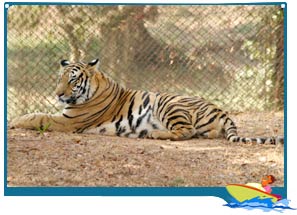 Nestled in the foothills of the Western Ghats mountains, the Bhagwan Mahavir Wildlife Sanctuary is the largest wildlife sanctuary in Goa. Spread over an area of 240 sq. km, the sanctuary was previously known as the Mollem Game Sanctuary, a designated wildlife reserve since 1969. The core zone of the sanctuary, comprising an area of 107 sq. km., was declared a National Park in 1978 and is known as the Mollem National Park.
Apart from being home to exotic wildlife species, Bhagwan Mahaveer Wildlife Sanctuary boasts of a host of tourist attractions in the form of unique geographical formations and scenic spots. The basalt rock formation known as Devil's Canyon serves as an ideal vantage point for watching the wildlife of the sanctuary. The Dudhsagar waterfalls located in the fringes of the sanctuary presents a breathtaking spectacle with water gushing down from a height of 200m. The Tambdi Surla temple was built by the Kadamba kings in the 13th century.
Flora at the Bhagwan Mahavir Wildlife Sanctuary
The sanctuary is endowed with lush green vegetation ranging from tropical evergreen forests and semi-evergreen forests to moist deciduous forests. The major species of flora found in the sanctuary are Terminalia, Lagerstromia, Xylia, and Dalbergia.
Fauna at the Bhagwan Mahavir Wildlife Sanctuary
The sanctuary is the treasure trove of a myriad of animal species including Gaur, Sambar, Panther, Leopards, Spotted Deer, Mouse Deer, Barking Deer, Slender Toris, Jungle Cats, and Malayan Giant Squirrels. The avian population is represented by Indian Black Woodpeckers, the Malabar Pied Hornbills, Paradise Fly Catchers, Fairy Blue Birds, Drongos, and Wag tails.
How to Reach Bhagwan Mahavir Wildlife Sanctuary
Air
The nearest airport is Dabolim (80km).
Rail
The nearest railway station is Colem (6 km). The Mormugao - Londa railway line passes through the area.
Road
The National Highway NH-4A divides the Bhagwan Mahaveer sanctuary in two parts. Regular buses of the Kadamba Transport Corporation ply from Kadama bus station, Panaji, (53 km) to the sanctuary.