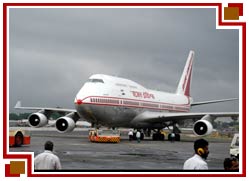 A small village located in the Chhatarpur district of Madhya Pradesh, Khajuraho is renowned for its plethora of medieval Hindu and Jain temples. Capital of the Chandela Rajputs during the 10th and 12th centuries, the place still makes a bold artistic statement through its exemplary and erotic group of monuments, which are even listed as a UNESCO World Heritage Site. The sculptured figures that bedeck the facades and interiors of these temples lure tourists from all across the globe. In the following article, we have provided you all the requisite information on how to reach Khajuraho.
By Air
Khajuraho airport, though small, connects it to different cities of India. Flights of major airlines like Jet Airways (to Varanasi, Delhi and Mumbai), Air Sahara (to Bhopal, Indore and Delhi), Indian Airlines (to Varanasi, Delhi and Agra) and Kingfisher Airlines (to Bhopal, Allahabad, Indore, Mumbai and Delhi) fly between Khajuraho and other important cities of India. There are also flights that help uou in reaching Khajuraho from Nepal.
By Rail
There is no direct rail route to reach Khajuraho. The nearest railheads are Harpalpur (94km) and Mahoba (63km). For people coming from North India, Jhansi (172km) is the most convenient railway station for traveling to Khajuraho. On the other hand, the Satna railhead, locCated on the Mumbai- Allahabad railway route and at a distance of 117 km, is convenient for travelers from Mumbai, Kolkata and Varanasi.
By Road
Well maintained roads connect Khajuraho to cities, in and around Madhya Pradesh. Direct buses easily link Khajuraho to other places like Mahoba, Harpalpur, Satna, Jhansi, Gwalior, Agra, Jabalpur, Bhopal, Indore, and Chhatarpur. Buses of the MP tourism ply between Khajuraho and all these cities. Private tour operators also provide AC/ Non AC, Deluxe/ Non-Deluxe bus services to tourists traveling to Khajuraho.