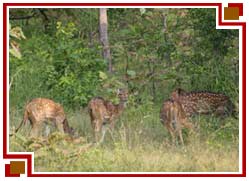 A thick-forested land encompassed by bamboo and sal trees and wooded cliffs of the Vindhyas; Bandhavgarh National Park is one of the most exotic wildlife destinations in India. An erstwhile game reserve of the royal family of Rewa, Bandhavgarh got recognition as a wildlife park in 1968, when the Maharaja of Rewa bequeathed the park to the Government. Initially the park stretched to 105.40-sq-kms in area, with 25 resident tigers forming its prime attraction.
Today this sprawling park of Madhya Pradesh covers an area of 437-sq-kms. Visiting Bandhavgarh and trailing tigers on Elephant Safari or cutting through the jungle tracks in a jeep (Jeep Safari) promises to give you one of the best wildlife experiences in the state. The nearest airport to reach Bandhavgarh is Khajuraho (270 km) and the nearest railhead is Umaria (35 km). The best time to visit Bandhavgarh Wildlife Sanctuary is mid-November to June.
Landscape and Flora
Bandhavgarh jungle has an excellent vegetation concentration and consists mainly of sal trees. The park remains enveloped in thickets of greenery and the shower of trees here is simply spellbinding. Towards higher altitude, the vegetation changes to a mixed type, with stretches of dhobin, sali and saja. In the northern regions, there are vast areas of grass and reed-covered lowlands, with bamboo coppices. The emerald landscape in this region also exhibits craggy ridges, with dramatic ravines and perennial streams.
Low hillocks, cloaked in green trees and grasslands, make up the southern region of the park. This region was incorporated into the park in 1982. The central zone or the core zone of the park consists of the original 105.40 square km and still remains the main site of wildlife viewing, with its 32 hills and the 14th century Bandhavgarh Fort. There are also some swampy areas, divided by water bodies and a few stretches of grasslands, in the region.
Fauna
Declared a tiger reserve under 'Project Tiger', in 1993, the popularity of Bandhavgarh lies in the fact that it domiciles the highest density of tiger population in India. It is also a white tiger country. So, the chance of spotting a wild tiger in Bandhavgarh is higher as compared to other wildlife sanctuaries in India. Apart from tigers, other animals that reside amidst the folds of its jungle include leopards, rhesus, gaur, chital (spotted deer), sambar, dholes, nilgais, wild boars, sloth bears, macaques, black faced langurs, hyenas, porcupines, jackals, foxes, wild dogs, chinkaras, chausinghas, ratels, cats etc.
Avifauna
From graceful egrets to carnivorous birds like vultures, Bandhavgarh promises some excellent sights as far as its collection of birds is concerned. Bird population in the park include steppe eagles, orange-headed thrush, coppersmith barbet, browed fantails, green pigeons, black and white malabar hornbills, grey malabar hornbills, kingfishers, white bellied drongos, parakeets, blue bearded bee-eaters, green bee-eaters, black stork, owls, Jerdon's and gold fronted leaf birds, minivets, woodshrikes, paradise flycatchers, giant leaf bird, common sandpiper, laughing dove and many others.