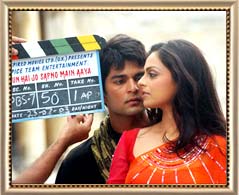 Bollywood is the informal name by which the main Indian Film Industry, situated in Mumbai, is known. The term 'Bollywood' refers to only one part of the Film Industry of India and not the entire industry, as it is normally thought. Apart from the Bombay-based industry, there are other film industries also, like Tollywood (Telugu Film Industry), Kollywood (Tamil Film Industry), Marathi Film Industry, Bengali Film Industry, etc.
The name of the industry is a combination of the two words Bombay (the earlier name of Mumbai) and Hollywood, the center of the American film industry. Bollywood is also known as the Hindi cinema and comprises of the films made in Hindi, Urdu and English language. Infact, the concept of English and Hinglish (a combination of Hindi & English) movies is catching up in the Indian film industry. A growing number of films are being based on this particular model.
As per estimates, Bollywood comes up with as many as nine hundred to one thousand films every year, comprising of commercial as well as parallel cinema. Most of these movies are potboilers, full of romance, song and dance sequences and melodrama. However, the industry as well as the audience has matured with time. Films on serious and meaningful topics are being experimented with as well as being appreciated.
The films churned out by Bollywood are receiving international recognition also. They are being screened at Cannes and other international festivals and are gaining applauds from the global audience. The actors of the Indian film industry are working in international projects, some of them even from Hollywood. Though the Hindi movies are a bit too long, running for approximately 2.5 hours, watching them is definitely worth the effort of sitting at one place for so long.