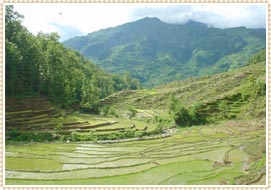 Gorkha is a picturesque hill- town that has a rich history of its own. The place is situated on a small mountain at the height of 3500 feet and offers a magnificent view of the Himalayan Peaks. King Prithvi Narayan Shah, who unified the Kingdom of Nepal during eighteenth century and got an upper hand over the Ranas, was born here. Actually king Drabya Shah founded this kingdom in the year 1560 and since then, the place has acted as the den for the Shah dynasty. In the war of throne with Ranas, the Gorkhas had the last laugh as the Gorkha soldiers succeeded in conquering the Kathmandu valley. The capital of the Nepal was shifted to Kathmandu since then. But this beautiful township has always remained as the center of attraction for many Nepalese as well as foreign visitors.
Among the sites to visit, Gorkha Durbar tops the list. This historical palace is a one-hour walk from the downtown Gorkha. The palace is strategically located over a fortified hillock. On the southwestern side of palace lies the temple of Goddess Gorakhkali. The place is picture-perfect to have a view of Mansalu and Himalchuli peaks of Himalayas. Nevertheless, the best place to have a view of the palace and peaks is Upallokot, a viewpoint made on a pedestal over the hill at the height of some 5000 feet.
The other important site is Mankamana Temple. The place lays on a beautiful ridge southeast of the township of Gorkha. The temple, a famous pilgrimage for Hindus, is dedicated to Manakamana, the holy goddess of aspirations. It is a four-hour uphill walk from a place called Anbu Khaireni on Kathmandu-Pokhra Highway.