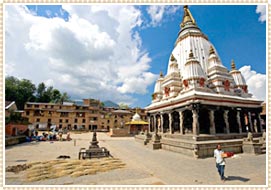 The Pagoda of Machhendranath is one of the most beautiful shrines in Nepal. This pagoda is considered a masterpiece of terra cotta by even the stringiest of critique of Asian architecture. The pagodas of Bhutan and India heavily influence its architecture. Like the Maha-Buddha Stupa, it reveals an artistic tradition that evolved outside of Nepal. It also signifies the fusion architecture that was born on the land of Buddha. It also shows how native craftsmen and masons have been remarkably successful in molding architectures that belong to an unfamiliar art form.
The pagoda is relatively new and hence it is comparatively easier to find its commissioner. There is ample proof that states that Abhaya Raj, a priest of Patan, built Machhendranath temple. The priest is said to have royal patrons and was wealthy. This pagoda is often referred to as the "temple of a million Buddha". The only considerable logic behind this sobriquet is the fact that every single brick bears a small image of Buddha. A total of more than nine hundred thousand bricks were used to construct this giant structure and the figure is remarkably close to 1 million figures.
The Stupa that you see today is actually the replica of the original structure. The original Macchendranath Stupa was leveled to the ground in the devastating earthquake that hit Nepal and Bihar in the year 1934. The building was re-commissioned and was rebuilt exactly to the original specifications. This is the living example of the fact that the temple craft is still one of the living arts of Nepal.