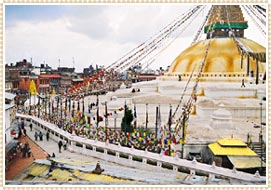 Bouddhnath Stupa is not only the largest Stupa in Nepal but also one of the largest Stupas in entire Asia. Since ages Bouddhnath has been a citadel and center of attraction of Tibetan Lama Buddhism in Nepal. This white pagoda that stands 36 meters on its feet falls in the way of the ancient trade route between Bihar and Tibet and that is why it was the focal point for the caravans that passed either ways. Tibetan merchants and hermits have rested and offered prayers here for many centuries. Travelers like Fa'Hein have traversed the same route.
The place saw the major influx of refugees in early 50s. It was the time when China redrew it boundaries and declared Tibet as its integral part. The mass exodus followed and many of the refugees settled in the area around the Bouddhnath Stupa. They established many Gompas, and the "Little Tibet" of Nepal was born. This "Little Tibet" is still the best place in the Valley to observe and study the Tibetan lifestyle. Monks walk about in maroon robes with prayer wheels in their hands, and the rituals of prostration are presented to the Buddha as worshippers circumambulate the Stupa. The second and third generations are sadly moving away from the Tibetan culture and are intermingling in the western world. The anti-China rhetoric has given way to Bob Dylan and Eminem.
Like all other monuments in Nepal, it is very difficult to zero in on one date of construction. Historians and novices spin new stories in matter of hours and things become topsy-turvy. Nevertheless, majority of people believes that Bouddhnath was constructed in the fifth century. The Stupa is said to entomb the remains of a Kashyap sage who is venerable both to Buddhists and Hindus. The other popular but utterly bizarre legend has it that a woman requested the then King for the donation of land for building Stupa. She said that she needed land covered by one buffalo's skin. When she had her wishes fulfilled, she cut the buffalo skin into thin strips and circled off a fairly large clearing. The king had no choice but to give her the land.
The area around the Bouddhnath Stupa is a feast to the eyes typical to all Tibetan Buddhist sites. Colorful Thangkas and flags mark the whole area. It is also a shopper's paradise in Kathmandu. Tibetan jewelry, hand-woven carpets, masks, and Khukri knives are some of the must buy items in this market.
Smaller Stupas are located at the base. Gompa monasteries, curio shops, and restaurants surround Bouddhanath. Conveniently situated restaurants with rooftop patios provide good food and excellent views of Bouddhanath.