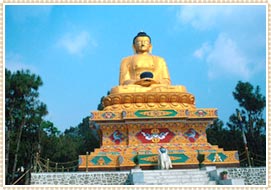 Swayambhunath Stupa or The Stupa with golden spire is a 5th-century pagoda in Nepal. Typical of other monasteries, the Swayambhunath Stupa is adorned with fluttering prayer flags. This UNESCO Heritage site is situated on a hill that overlooks the Kathmandu valley and can be clearly seen from any part of Kathmandu on a clear weather day. In fact it can be safely adjudged as the most recognizable monument in entire Kathmandu. The golden top of the pagoda and the "Eyes of Buddha" that has been painted on it can be easily recognized from anywhere in Kathmandu.
Swayambhunath is one of the holiest Buddhist site in entire Nepal. The Stupa is also connected to the legend that surrounds the birth of Kathmandu. It is said that when the ancient lake was drained out to form the Kathmandu valley, the shining sunlight became Swyambhunath Stupa. On a regular day, you will find various groups of Buddhist monks, dressed in maroon, circling the complex. Every one of them will have the sacred prayer wheels in their hand unless they have not caught the fancies of scores of monkeys that inhabit the area. These irrelevant groups of monkeys play prank with tourists and monk and thus this shrine has been re-christened, Monkey Temple.
Hindus, Vajrayana Buddhists of northern Nepal and Tibet, and the Newari Buddhists of central Nepal worship Swayambhunath. The daily prayer starts early morning and that is the best time to visit this site. Monks scale this 365 stairs building and begin a series of clockwise circumambulations of the Stupa. Hindus and Newari Buddhists prefer counter-clockwise direction. "The eyes of Buddha" are on all four sides. They symbolizes that God is omnipresent. Above each pair of eyes is a third eye that signifies the wisdom of looking within. There are no ears because it is said the Buddha is not interested in hearing prayers in praise of him.