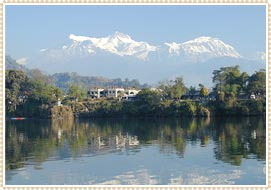 There are four main types of weather in Kathmandu: hot and muggy, hot and rainy, balmy and clear and just plain chilly. In the shoulder seasons of October-November and March-April views are clear, temperatures are warm without being oppressive and rain showers are brief and refreshing.
November to February is also clear and dry but often cold, especially after dark. The period is fairly chilly and lasts until February. The city's climate is fairly mild and is perfect for holidaymakers. The minimum Temperature during the winters hovers around 0°C in Kathmandu
May and June can be unbearably hot and muggy until the monsoon arrives to inundate the country with unrelenting rain from June to September. Summers are hot and dusty, although, heavy rains can be expected during this period. The maximum temperature can go up to 40°C during the summers.