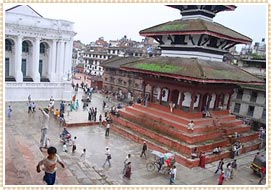 The Durbar square is same to Nepal as Tianmen Square is to Beijing. The place has been listed in the UNESCO world heritage site. Durbar Square is the focal point of religious and social activities in Kathmandu Old City. This place comprises palaces, temples, shrines, statues and courtyards built between the 12th and 18th centuries by the ancient kings of Nepal. The Durbar square is the subtle amalgamation of old and new. The elaborately carved architectural features and curving roofs are night stays for beggars and tourists. Priests and monks who jostle along the crowd to attract a possible client accompany them.
Two ferocious looking stone lions guard the gates of Old Royal Palace that was abandoned by the monarchs in the late 18th century. The campus contains a number of courtyards and several museums. There is a plaque that is set in the palace walls which is said to be 400 years old. The inscriptions written on the plaque is in 15 different languages. On the other side of the square is the Kastha Mandap temple that is said to have bore its name to Kathmandu. The unique feature of this temple is that it has been constructed of wood out of a single tree. The structure is an open pavilion that is topped by a pyramidal tower. It is purportedly the Valley's oldest building.
Kathmandu Durbar square, also known as Hanuman Dhoka Durbar, used to be the residence of the Nepali royal family and administrators. The palace became a public attraction when the monarchs shifted to the newly build Narayanhity Palace. The Hanuman Dhoka Durbar lies in the heart of the city. It consists of huge Royal Palace with different temples dating from the 15th to the 18th century. This palace is named after Hanuman, a Hindu deity and a stone statue of Hanuman is placed right next to the main entrance.
Some other important monuments worth visiting in the vicinity are as follows:
Besides these, other fascinating part of this palace complex is the towering Nautale Durbar that overlooks the city. It is famous for its many intricately carved doors, windows, etc.: