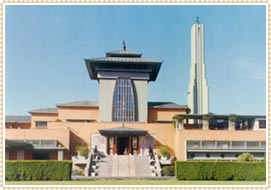 Narayanhity Royal Palace or Narayanhity Durbar is the home of the monarchs of Nepal. Some parts of this palace are more than 200 years old. It is the Royal Palace of the Nepali King. The Shah kings moved to this palace from their old palace in the late 18th century. This was a decade after they came out victorious with the gruesome wars with the Ranas. The old palace that still stands near the famous Durbar Square was abandoned and the new one was constructed to commemorate that victory. There were various additions in the course of time. The new edifice was inaugurated in 1970 on the occasion of the wedding of His Majesty king Birendra Bir Bikram Shahdev.
The palace witnessed a bloody massacre in the year 2000. King Birendra Bir Bikram Shah was assassinated along with 7 members of his family including Queen Aishwarya and Crown Princesses. It was alleged that Crown Prince Dipendra, who was upset with his immediate family because they unapproved the girl of his choice, carried out this massacre. He himself died after few days because of the wounds sustained during alleged "exchange of fire". Various conspiracy theories were spun later and there is no clear picture of what happened that night.
The palace takes its name from the Narayanhiti, a famous historic waterspout situated at the southern corner of the Palace. The Palace compound is immense, surrounded by high walls and guarded by soldiers. Visitors can look at the exteriors of the palace from a safe distance.