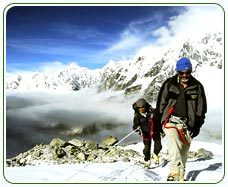 The mountains of Sikkim boast of the best natural landscape that is granted to Sikkim by the almighty. In fact, the Himalayas in Sikkim are the quintessence of the world's mountains. Being distinguished all over the globe, these mountains are prominent for their utter splendor and exquisiteness. How about the idea of mountaineering in such majestic mountains? This proposal could perhaps be the best mountaineering expedition you have ever had in your life.
Envisage the idea where you are mountaineering on the confounding height of 8,585 meters and semi-frozen waters of river are gushing through the stony surface. Isn't this a hair rising scheme? Don't let your spirits down 'coz with every fear, success always come hooked. The gigantic mountains and deep valleys get hold of all senses with a mere thought. If you happen to be a mountaineer, this is going to be really exciting as well as adventurous for you.
The best time to start your mountaineering expedition is from March to May and from September to November. Encompassing the third highest peak of the world, Kanchenjunga or Khangchendzonga can be a partial part of your daring mountaineering expedition. In point of fact that the Kanchenjunga is regarded as the guardian deity of Sikkim, climbing this mountain is not permitted by the Sikkim Government.
With a sheer altitude of 22,000 ft, Rathong has many peaks, which require special permits. The best-known peaks in Sikkim are Talung, Jonsong as well as Tent (7,365 m) and all of them elevate above 24,000 feet. Apart from it, the other renowned mountaineering peaks in Sikkim are Kabru, Kirat, Chulior and Sinolchu (6,887 m). Mountaineering in Sikkim requires formalities, since clearance is essential from the Indian Mountaineering Federation, New Delhi. After the clearance, one has to pay royalty for each peak, which is required to be climbed, to the Sikkim Govt.
Mountaineering Permits
Foreigners are required to paperback their names along with the peak fee. The mountaineering expeditions in India are organized or sponsored with the due grant of the Indian Mountaineering Foundation (IMF). It is compulsory for foreigners to take along relationship officers from the Sikkim Mountaineering Association and the Indian Mountaineering Foundation with them.
Actually, IMF acts as a clearing house for foreign expeditions and authorizes a relationship officer to escort foreign climbers. Each and every request undergoes the clearance process by IMF. It is recommended to notify at least six months prior to your expedition. Each and every emergency and accident is taken care of by the relationship officer, who would help in rescuing with the help of Indian Air Force.