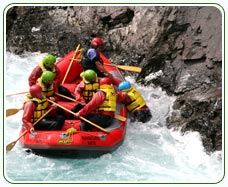 Imagine the gushing icy waters of the rivers, where you are struggling on those torrents trying to row your rafts. Undoubtedly, for a layman it is awe-inspiring and for rafting lovers, it would be really mesmerizing. The bewitching splendor of Sikkim accompanied with its frosty watercourses offers this exciting activity of river-rafting. The turbulent waters, in the company of dense forests, full of rich flora and fauna, inspire the adventurers to get set for this thrilling voyage.
Rafting in white water has been recently introduced in the list of adventure sports in Sikkim. In Sikkim, River Teesta and its tributary Rangit, offer the best routes for river rafting. Both these rivers provide long stretches that are perfect for safe rafting. In fact, Teesta River has been ranked at Grade 4 on the international scale. Its chilly waters have a series of rapids with sketchy intensity and character.
Barely two to four rapids come during the way, where you will be drenched by mild floats in the waters, getting the ultimate pleasure from this adventure sport. Your experience with Teesta course would include Makha, down to Sirwani, then Bardang and eventually to Rangpo. Teesta tenders one of the finest rafting stretches in India and in the world as well. Rangit has more turbulent waters, which is actually a treat for experienced rafters.
During Rangit journey, you will raft from Sikip, down to Jorethang, then Majitar and finally to Melli. If you have not tried river-rafting yet, there is no need to have butterflies in your stomach, since the world's best stretch is waiting for your arrival. For beginners, the tourism deptt has made special arrangements and one can easily learn the tactics to raft. For any kind of assistance, you can always consult the liable people of Sikkim Tourism Deptt.
On the way, you would be able to locate many white sandy beaches, which can become good campsites. You can also avail the services of overnight river beach camping. To put succinctly, it would be apt to say that one must come and enjoy the gushing waters of Teesta and Rangit on the rafts. River rafting in Sikkim would actually be a stupefying experience for you.
Kayaking
Kayaking is a little more risky than river-rafting. Undertaken on the Teesta, the expedition of Kayaking is approved for special groups. Fiberglass Kayaks of international standards are obtainable through Sikkim tourism. Before getting on this journey, some amount of experience is required in Kayaking as it is meant for experienced rafters and requires a little knowledge.